Anime Database
Before Candy Boy (Kyandi Boi in Japanese) was a series, it was first released as an original net animation which lasted around eight minutes during November 22, 2007. A year later, it was followed by its seven-episode series which ran from May 2, 2008, to May 8, 2009.
568 users added this.
The very first Candy?Boy episode.
505 users added this.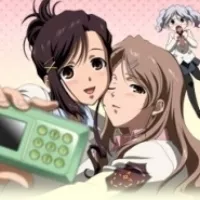 A dvd only prequel to the Candy Boy series. Twin sisters, Yukino and Kanade Sakurai, move to a new school in the big city of Tokyo but not everything is quite like they expected.
459 users added this.
Final episode (designated as Episode 8) of Candy Boy which came with DVD volume 2. The episode centres around a day at the pool.
546 users added this.
Crime happened almost every day and almost everywhere in Japan that the authorities had no choice but to approve of a law that allows citizens to carry firearms. The Recently Armed Police of Tokyo was created to eradicate this growing problem.
1334 users added this.
Sumika Murasame is deeply in love with her cheerful classmate and friend Ushio Kazama. Ushio is openly lesbian but.
259 users added this.